Note: If you don't have a Banti account, signup takes just a minute!
---
Last thing you want to do is have your clients drop the ball and not get back to you with their album comments in a timely fashion. Now Banti makes it easier than ever to get your album from proofing into production.
Here is how you can set it up:
Login to your Banti Account and go to:
"Your Account" -> "Settings" -> and expand "Comments & Reminders"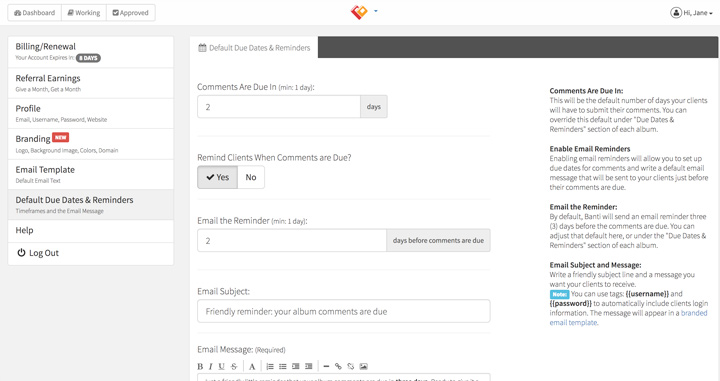 Use this section to:
enable (or disable) comment reminders
set the timeframe in which comments are due (i.e. 20 days after creating the album)
write the email text that will be sent to your clients
and set the timeframe for the email to be sent (i.e. 3 days before comments are due)
Once you have the default timeframes set you can modify them for each of your clients when you create their albums.
Our goal is to improve your wedding album workflow by getting better and smarter with every release. If you have ideas for other features that would help us reach that goal please let us know.